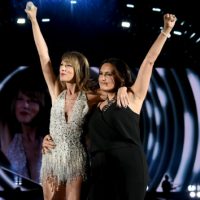 Dimitrios Kambouris/LP5/Getty Images for TAS
Taylor Swift has begun to make good on her promise to donate money to organizations that help sexual assault victims defend themselves, after a jury ruled for her in her claim of assault against former deejay David Mueller.
Taylor will be making a donation to actress Mariska Hargitay's Joyful Heart Foundation, among other organizations, Joyful Heart's CEO told The Huffington Post on Wednesday.
"Taylor is aware of the Joyful Heart Foundation and follows our work," Zambuto told the website. "Her team got in touch with me and we talked a lot about her commitment, all along throughout this ordeal, to wanting to be of service to survivors. "
The organization tweeted a link to the HuffPo story, with the comment, "@taylorswift13's courage & generous investment in our work send a powerful message to survivors: you are not alone."
Joyful Heart was founded in 2004 by Law & Order: Special Victims Unit star Hargitay after her research in preparation for the role left her shocked by the scope of sexual assaults in the U.S.
Joyful Heart CEO Maile M. Zambuto did not reveal the amount of Taylor's donation but characterized the donation as an "extremely generous financial investment in the movement to end sexual violence."
"I think it was really important to see someone like Taylor to stand up to her abuser so publicly because there's so much secrecy and shame associated with sexual assault," Zambuto told the website. "Taylor had a choice to do this quietly — to risk less — and instead, she took this path as a survivor and as a symbol of strength and a source for so many survivors who feel really alone."
Mariska, of course, was featured in Taylor's all-star "Bad Blood" video.
Copyright © 2017, ABC Radio. All rights reserved.