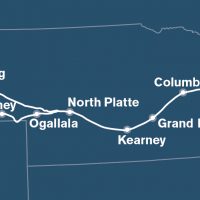 COLUMBUS- A Union Pacific Streamliner locomotive will traverse the state during a three-day Whistle Stop Tour.
Columbus will host a rally Friday from 11 a.m. to 1 p.m. to welcome the locomotive featuring a band and activities for children. The locomotive is set to arrive at 11:50 a.m. and will depart at 12:50 p.m.
The Whistle Stop Tour is apart of the states 150 celebration.