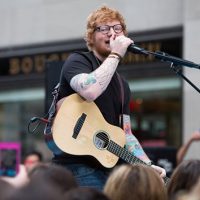 Nathan Congleton/NBCEd Sheeran sat down with Megyn Kelly in a revealing interview on this weekend's edition of NBC's Sunday Night in which he discussed everything from Twitter, why you shouldn't mess with Adele, to his much-hyped, upcoming cameo on Game of Thrones.
During a "Lightning Round," where Kelly poses a series of rapid-fire questions, Sheeran was asked that rumored Game of Thrones cameo was true. Ed responded with an emphatic, "Yes," but warned: "It's one of those things that's been really built up…and I guarantee when it happens, people will be like, 'What?'"
Sheeran also clarified a recent comment he made about leaving Twitter, insisting that he just chose to stop reading the negative comments.
"I think if you read anything negative about yourself it doesn't matter who you are, you wonder why someone thinks that," he explained. "And the thing that I couldn't get my head around was I'd never met any of these people and they were having, you know, they'd just had woken up that morning and be like, "I don't like him."
And as for that recent statement that he wants to sell 20 million albums and be "bigger than Adele," the "Shape of You" singer says the quote was misinterpreted.
"A lotta people were like, 'That's such an arrogant thing to say' blah blah blah," he said, explaining, "I probably won't sell 20 million records and I probably won't ever be as big as Adele, but if you don't aim for the top of the mountain how are you ever gonna get halfway?"
"The word 'Adele' is just something that no one should f*** with, basically," he jokes, "so if you put that into any sentence, prepare to be, like, shut down."
Copyright © 2017, ABC Radio. All rights reserved.