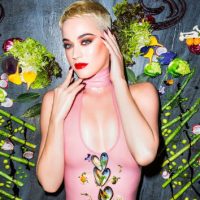 Rony AlwinRemember last summer, when Orlando Bloom and Katy Perry were photographed paddle boarding on vacation? Everyone lost their minds because Orlando was full-on nude and everything was on display. Well, even though Katy and Orlando are no longer dating, she was asked about that moment during an interview Tuesday on Australian radio.
While speaking to the Kyle and Jackie O Show on Australia's KIIS 106.5, Katy was asked why she elected to keep her bathing suit on in those photos.
"He asked me if I wanted to be [naked], and I was like, 'Ah, nah,'" Katy replied. "You know when you're dating someone and you think it might be fun to go make out over there? But I wasn't in the mood, I saved it for the boat!"
O.K., so why did Orlando decide to go full-frontal?
"He was just trying to show off for all the people back on the shore," she laughed. "It was so funny, I was, like, kinda explaining Twitter to him and social media because he had taken a bit of a break on all that stuff."
"And I had been explaining to him for a few weeks," she continued. "And then all of a sudden he's, like, number one trending on Twitter! And he's like 'I understand Twitter!'"
Copyright © 2017, ABC Radio. All rights reserved.