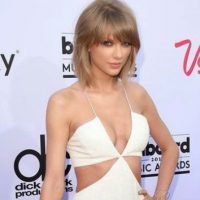 Jason Merritt/Getty Images via ABCTaylor Swift turns up in the oddest places.
Oklahoma City Thunder point guard Russell Westbrook has been named this year's NBA MVP, and his teammates tweeted out a special congratulatory video, starring none other than Tay-Tay, who's been largely absent from both social media and the spotlight for months.
"Ah, Russell, it's Taylor. Remember? I was the one who taught you how to play basketball," Taylor says in the video. "I was the one who taught you to dribble…and I remember the first time you beat me at basketball and I was very upset. And you said, if you remember correctly…'You just have to shake it off,' and I got an idea. So, essentially, we have each other to thank for these careers."
She goes on to say that she and Russell "go back, what, 20 years?" before correcting herself.
"Actually, we've never met and that's a fake story but I wish it were the truth," she says. "And you are amazing. You're the MVP. I'm so happy for you. Sending you the biggest hug ever. Congratulations!"
As for why Taylor was tapped to record the video, Westbrook is a fan: he once Instagrammed himself jamming to her hit "Bad Blood."
.@taylorswift13 sings Russell's praises! #0urMVP pic.twitter.com/5HgKeVrMsi

— OKC THUNDER (@okcthunder) June 27, 2017
Copyright © 2017, ABC Radio. All rights reserved.