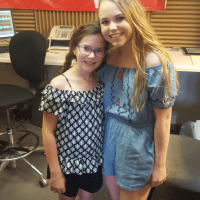 COLUMBUS- In their continuing effort to raise funds and awareness for the fight against childhood cancer, the Hudnall Sisters of Columbus will host their 10th annual Lemon Sm:)es lemonade stand on Friday through Sunday, 10:30 am to 5 pm, at Super Saver and Hy-Vee in Columbus.
The Lemon Sm:)es lemonade stand is during Alex's Lemonade Days, Alex's Lemonade Stand Foundation's national fundraising campaign. 15 year old Madeline Hudnall explained how her and her 11 year old sister Lillian got their money making idea…
The sisters hold their yearly stand not only for their friend Charlie Priester, who is in remission after battling neuroblastoma, but also to offer hope to all of the families who struggle with the disease. Recently, a Hudnall family friend has lived the tragedy of having their 21-month-old granddaughter, Coco, be diagnosed with a rare brain cancer and is currently on hospice. This year's effort is being dedicated to Coco and her family…
Madeline shared some of the activities area residents can look forward to this coming weekend…
Madeline said there are plenty of ways to get ahold of Lemon Sm:)es to donate…
Lemon Sm:)es has raised over $30,000 in cancer support with their lemonade stands. For more information on Alex's Lemonade Stand Foundation, visit AlexsLemonade.org.