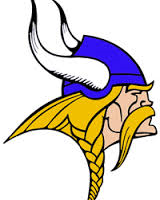 The Lakeview football team kicks off its 2016 season Friday night by hosting Milford-Dorchester. It's the Vikings Hall of Fame Night.
Lakeview head coach Kurt Frenzen says sophomore quarterback Jaden Johnson should be helped by having an experienced offensive line.
You can hear Lakeview's game on 93.5 The Hawk. Columbus also opens at home, taking on Waverly on KLIR 101.  And Scotus visits Wayne on KZ-100.  All three games kick off at 7 p.m.
The High School Football Scoreboard Show starts at 10:30 p.m. on KZ-100.  And the Pinnacle Bank Coaches Show is on KLIR 101 Saturday, starting at 9 a.m.