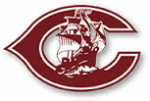 Columbus High's football team opens the 2016 season Friday night by hosting Waverly. A year after going 0-9 against Class A opponents, the Discoverers are moving to Class B this season.
Head coach Craig Williams says one of the strong points of his team is depth.  For instance, quarterback Landon Brabec is out with a shoulder injury, but Williams said junior QB Michael Koch had some "really nice runs" at last Thursday's scrimmage.
The Columbus-Waverly game Friday night will be aired on KLIR 101. Scotus visits Wayne on KZ-100.  And Lakeview entertains Milford-Dorchester on 93.5 The Hawk.  All three games have 7 p.m. kickoffs.