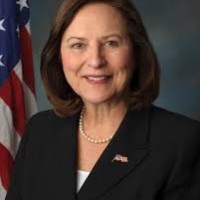 By U.S. Senator Deb Fischer
It's that time of year again. Pencils are sharpened. Backpacks are filled with books. Soon, rows of yellow buses will make the morning rounds. Nebraskans are going back to school.
At night around the dinner table, parents will ask about new classes and friends, how strong this year's team will be, and whether that homework will be done on time. Like their parents years before, they ask out of love and genuine desire to see their children succeed.
In these conversations, parents and students should keep in mind the many resources my office has to help young people prepare for their career and gain valuable experience.
For example, my High School Youth Advisory Council is a fantastic way to participate in and learn about our system of government. Organized by my staff, these councils offer high school students a chance to share their views with me directly through listening sessions held in Lincoln and Omaha. I highly value the feedback I receive, and I am always encouraged by the enthusiasm of our council members. Interested students should ask a teacher or school administrator about the selection process. Selections are made every fall.
For high school students seeking to serve our nation in uniform, my office also handles nominations to our military service academies. Admittance to a service academy is among our country's highest honors. Through this highly competitive process, we choose our next generation of military leaders. Students interested in attending the United States Military Academy at West Point, the Naval Academy in Annapolis, the Air Force Academy at Colorado Springs, the Coast Guard Academy in Connecticut, or the Merchant Marine Academy in New York should visit my website at www.fischer.senate.gov. Applications for academy nominations are due in October.
A Senate internship is another excellent opportunity to gain firsthand experience in our government and the political process. Positions are available in my Omaha, Lincoln, and Washington, D.C. offices. Internship responsibilities may include: leading U.S. Capitol tours, processing constituent correspondence, attending briefings and committee hearings, tracking legislation, monitoring Senate floor proceedings, drafting correspondence, assisting constituents with federal casework, and conducting legislative research. I encourage interested students to apply on my website and be mindful of fall, spring, and summer deadlines. Please keep in mind that internship positions are only available to college students and college graduates.
With these opportunities, as with any job application, competition is tough. Applicants are carefully vetted. Young people and parents should know a social media profile is every bit as important to employers as a resume. In today's digital age, it is unrealistic to think that only "friends" on social media can view or access posts.
This is an important message that must be stressed to our young people. There are so many opportunities before them, but a careless Tweet or Instagram post, an inappropriate photo on Facebook, or a foolish video on Snapchat could cost them an amazing opportunity. As parents have these conversations, I encourage them to emphasize prudence and safety in the digital world.
The start of school is always an exciting time. For students coming into senior year of high school or heading off to college, it is a time of transition. They may even be a little nervous. That's quite all right. The opportunities before our students are many, and the boundaries are few. I encourage all of our Nebraska students to take full advantage of these resources, and I hope to see them soon.
Thank you for taking part in our democratic process. I look forward to visiting with you again next week.