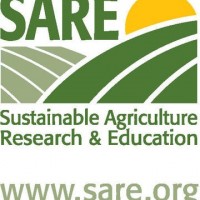 "If somebody posed the question—would I farm without cover crops—I would say no," insists Kirk Brock, who grows corn, soybeans and peanuts on 1,000 acres in Monticello, Fla. His cover crop of choice, cereal rye, protects his hilly ground from erosion, and helps with weed control and moisture retention.
Brock is one of nearly two dozen farmers featured in SARE's Cover Crop Innovators video series. From row crops to diversified vegetables, these farmers explain how and why cover crops are an indispensable part of their rotations. Cover crops improve yields, protect the soil, retain moisture, increase organic matter and provide many other benefits, and acreage planted to cover crops is increasing across the country, according to a four-year national survey.
Click the map to find cover crop stories near you:
Examples of Stories From Each Region
Watch Kirk Brock's story, or browse for yourself, or check out one of these farmers from each region of the country.
North Central
Ray Gaesser grows 6,000 acres of corn and soybeans in Southwest Iowa. Practicing no-till for the last 30 years has protected his soil, but recent severe rainfalls have convinced him more is needed. "Our goal is to have a cover crop on every acre," he says.
Northeast
Jim Hershey farms 500 acres in Southeast Pennsylvania, where he grows corn, wheat and soybeans. He has been planting cover crops for the last three years, and now uses a five-way mix of crimson clover, radishes, triticale, Austrian winter peas and oats.
South
At Frog Song Organics in North Central Florida, John Bitter grows upwards of 80 crops in a year. Figuring out his rotations is the key to success as an organic farmer, and cover crops are an integral part of every rotation.
West
Larry Thompson has been planting cover crops on his organic vegetable farm since the 1960s, "long before it was the cool thing to do," he says. Cover crops improve the soil, manage nutrients, control erosion and provide beneficial insect habitat.