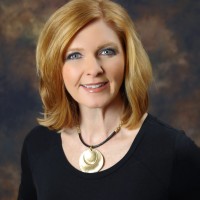 KEARNEY, NE – The Nebraska Beef Council congratulates their executive director, Ann Marie Bosshamer for dedicating 20 years of service to the beef industry. Bosshamer leads a team that oversees the collection and management of the $1 per head Beef Checkoff in Nebraska.
Recognized by many Nebraskans as the "Voice of Beef," Bosshamer has been featured on radio and television commercials as part of the "Beef. It's What's For Dinner" advertising campaign. Over the years, Bosshamer's voice has joined the likes of Sam Elliott and Matthew McConaughey to deliver beef nutrition and preparation messages to consumers across the state.
"Ann Marie has been a tremendous asset to the beef community over the years," said Buck Wehrbein, current board chairman for the Nebraska Beef Council. "We couldn't ask for a more passionate, tireless ambassador for our industry."
During her 20 years of service at the Beef Council, Bosshamer has worked closely with various other agriculture organizations including the Alliance for the Future of Agriculture (A-FAN), the U.S. Meat Export Federation and the Nebraska Department of Agriculture. She has served as the chair of the Federation Advisory Council and as a member of the National Cattlemen's Beef Association Executive Committee. She is an alumni of the Nebraska LEAD program and served as a member of the Cattlemen's Ball Advisory Board. Recently, Bosshamer was recognized as the newest UNL Bock & Bridle honoree.
"Ann Marie brings unmatched energy and dedication to the Nebraska Beef Council," said Greg Ibach, director of the Nebraska Department of Agriculture. "Her passion for the beef industry is evident through her commitment to all Nebraska beef producers."
Bosshamer graduated from UNL in 1992 with a degree in diversified agriculture. After a short time as a Nebraska Extension assistant in Lancaster County, she began her career with the Nebraska Beef Council on August 7, 1996 as Director of Consumer Affairs. She later transitioned into Director of Retail and Foodservice before becoming the Director of Marketing. In 2006 she was promoted to her current position as the Executive Director for the organization.
Bosshamer grew up on the family farm near David City. She and her husband Brian raise cattle near Amherst along with their two daughters, Brooke and Breanna.