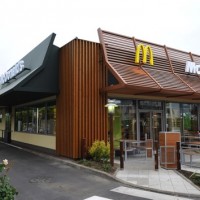 McDonald's Corp. said Monday it will replace high-fructose corn syrup in its sandwich buns with sugar as part of an ongoing effort to simplify its ingredients.
The company is also rolling out Chicken McNuggets and some breakfast items free of artificial preservatives and said it has curbed the use of chicken raised with antibiotics, a year earlier than planned.
Mike Andres, president of McDonald's U.S. operations, called the ingredient swaps a "sweeping change" that will impact 50% of the McDonald's menu.