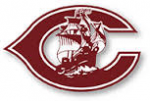 Columbus High School will host its 2016 Fall Sports Parents Night meeting on Thursday, August 11th. The meeting begins at 7 p.m. in Nantkes Auditorium.
All parents who have students participating in football, volleyball, softball, cross country, girls' golf and boys' tennis are encouraged to attend.
Activities Director Dave Hiebner and Athletic Trainer Rob Marshall will speak and there will be comments from the CHS Booster Club.  Parents will also have short meetings with their kids' coaches.