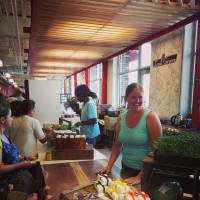 What would you do with $20,000 for your small farm?  For the owners of the Flint Ingredient Company in Flint, MI the opportunity is upon them.
This week the Mortgage Lifter program run by the Beekman 1802 Boys announced the 2016 winner live via Facebook.  With the help of three national judges Franklin Pleasant and Erin Caudell were selected to make advancements on their farm.
According to the lift website, Beekman 1802 gives away up to 25% of the profits all products in the Beekman 1802 Farm Pantry portfolio. These products are sold online through the Beekman website and on the Farm Pantry shelf at Target around the nation.
Farm Director Susan Littlefield spoke via phone with Erin Caudell the morning after the announcement…
As Erin said she is excited for something positive to happen to their community of Flint!
http://www.thelocalgrocer.com/