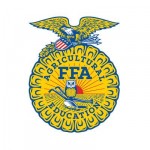 INDIANAPOLIS (Monday, July 25, 2016/National FFA Organization) – The National FFA Organization has selected 16 students from throughout the United States as finalists for its 2016 top achievement awards: American Star Farmer, American Star in Agribusiness, American Star in Agricultural Placement and American Star in Agriscience.
The American Star Awards represent the best of the best among thousands of American FFA Degree recipients. Recognized are FFA members who have developed outstanding agricultural skills and competencies through supervised agricultural experience (SAE) programs; earned an American FFA Degree, the highest level of achievement the organization bestows upon a member; and met agricultural education, leadership and scholarship requirements.
Each star finalist receives $2,000 from the National FFA Foundation.
A panel of judges will interview finalists and select one winner for each award at the 89th National FFA Convention & Expo, Oct. 19-22, in Indianapolis. The four winners will receive an additional $2,000 and be announced at the convention and expo's third general session as part of the Stars Over America Pageant on Thursday, Oct. 20.
The American FFA Degree recognition program is sponsored by ADM Crop Risk Service, Case IH, Elanco, Farm Credit and Syngenta as a special project of the National FFA Foundation.
The finalists include:
American Star Farmer
Tony Phillip Lopes of the Gustine FFA Chapter in California
Tysen Rosenau of the Carrington FFA Chapter in North Dakota
Evan Schaefer of the Miami Trace FFA Chapter in Ohio
Tyler Jacob Schnaithman of the Garber FFA Chapter in Oklahoma
American Star in Agribusiness
Terry Napier of the Madison Southern FFA Chapter in Kentucky
David Stenzel of the United South Central FFA Chapter in Minnesota
Garrett Dale Yerigan of the Pryor FFA Chapter in Oklahoma
Shane A. Mueller of the Garretson FFA Chapter in South Dakota.
American Star in Agricultural Placement
Joseph Knapp Boddiford of the Southeast Bulloch FFA Chapter in Georgia
Riley A. Lewis of the Prairie Heights FFA Chapter in Indiana
Brett Petersen of the Kerkohoven Murdock Sunburg FFA Chapter in Minnesota
Nathan Leystra of the Randolph Cambria-Friesland FFA Chapter of Wisconsin
American Star in Agriscience
Jordan Paine of the Southern Valley FFA Chapter in Nebraska
Elizabeth A. Renner of the West Central FFA Chapter in South Dakota
Taylor Shayne Swinson of the Sulphur Springs FFA Chapter in Texas
Kaitlin Hallam of the Spanish Fork FFA Chapter in Utah
Visit FFA.org/stars for more information about the American Star Awards.