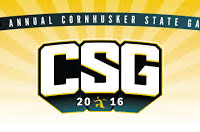 The 32nd annual Cornhusker State Games came to a close Sunday.  More than 10,000 athletes competed in 68 sports over the past nine days.
Outdoor competitors welcomed Sunday's cloud cover and high temperatures in the 80's after triple-digit heat indexes most of the past two weeks.
Track and field athlete Dorothy Ekblad – 89 years old – was the oldest participant and WalkOmaha participant Ruby Young was the youngest at 17 months.