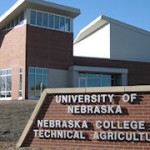 Curtis, Neb. – The Nebraska College of Technical Agriculture at Curtis announced academic honors for the spring semester of 2016.
Nine students were named to the Dean's List with a 4.00 grade point average and 43 students were named to the Dean's Honor Roll with 3.50-3.99 GPA, said Ron Rosati, NCTA dean.
Students must be fulltime enrollees, with at least 12 credit hours for the semester to be eligible for this designation.
NCTA Dean's List:  (4.0 GPA, Nebraska students unless noted)
Kylie Cadwalladar, Dunning
Raymond Fleer, Pierce
Aaron Jensen, Goehner
Matthew Lundt, Correctionville, Iowa
Alyssa Novak, Aurora
Trevor Schipporeit, Broken Bow
Kristian Seberger, Lexington
Ross Steward, Littleton, Colo.
Rebecca Wentz, Clayton, Kan.
NCTA Dean's Honor Roll:  (3.5-3.99 GPA, Nebraskans unless noted)
Riley Abbott, Hay Springs
Eleanor Aufdenkamp, North Platte
Shelby Lynn Bahe, Moorefield
Brooklyn Becker, Beaver City
Katie Boyle, Peyton, Colo.
Nolan Breece, Holdrege
Maggie Brunmeier, Bayard
Heath Buchanan, Douglas
Desarae Catlett, Broken Bow
Michelle Connelly, Grand Island
Aaron Doxon, Maywood
Keylee Forker, Plainview
Stacey Gemborys, Curtis
Whitney Gimple, New Underwood, S.D.
Jayde Hessler, Gibbon
Chase Jaster, Columbus
Drake Johnson, Thurston
Alaina Kauffman, Gretna
Nickolas Kunz, Stuart
Rebekah Lamberson, Prague
Nate Letcher, Hay Springs
Kaylyn Long, Minatare
Nathan Montanez, Grand Island
Erica Mowery, Middleburg, Penn
Roman Netherton, Cozad
Alexis Olson, Hemingford
Wyat Overturf, Sutton
Garth Packard, Ogallala
Ethan Penner, Ogallala
AJ Pestello, Breckenridge, Colo.
Sheila Reichmuth, Leigh
Haley Rogers, Lexington
Madeline Schutz, Grand Island
Emily Smith, Lexington
Madison St. John, Hastings
Elaine Streff, Hastings
Matthew Tomjack, Ewing
Emilye Vales, DeWitt
Wade Vallery, Plattsmouth
Ben Vrba, Schuyler
Kelsi Wertz, Trenton
Stetson Youel, Hay Springs
Brianna Young, Gordon
The University of Nebraska NCTA is a technical agriculture college offering two-year degree programs, certificates, opportunity for a Bachelor of Applied Science degree with UNL, and transfer programs.
Applications are still accepted for fall classes which begin August 22. Details on college programs are available at ncta.unl.edu.