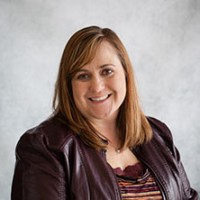 Jennifer Rittenhouse McConville instituted a college budget, gained a new title and soon adds a new skill on her resume as an accreditation reviewer.
McConville has served as assistant dean of finance and operations at the Nebraska College of Technical Agriculture in Curtis since January, 2015.
One of the primary responsibilities for the former agribusiness assistant professor was to revamp the institution's annual budgetary process that began July 1, 2015, and balance spending.
Year-end books ending today showed success.  McConville has assumed many new duties in the past year, guiding the Business Office, Student Services, Residence Life, Facilities, Food Service and Maintenance divisions at the campus, and also became NCTA's coordinator for Title IX programs.
Effective July 1, McConville became the NCTA associate dean.  Recently, she was named a college accreditation team reviewer by the Higher Learning Commission.  NCTA was reaccredited this Spring so McConville had close proximity to the process for colleges undergoing a visit by a review team.
"Jennifer has demonstrated tremendous skill and effectiveness as a college administrator.  She will be giving back to the profession by sharing her insights with other campuses as an accreditation reviewer," said NCTA Dean Ron Rosati. "I appreciate her willingness to share with others in this manner."
McConville and her family reside at Indianola.