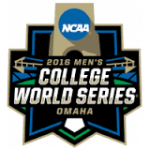 The Cinderella Chanticleers are celebrating.  In its first-ever trip to the College World Series in Omaha, Coastal Carolina downed Arizona 4-3 Thursday afternoon in the third and deciding game of the championship series.
The Chanticleers broke a scoreless tie in the top of the sixth inning by scoring four unearned runs.  The Wildcats answered with two runs, also unearned, in the bottom of the sixth to pull within 4-2.
They cut the deficit to a run on a sacrifice fly in the bottom of the ninth. And a two-out double put Wildcats at second and third.  But, a strikeout on a 3-2 pitch ended it.
Arizona – which won the first game of the championship series – wound up losing the final two as the Wildcats' bid for a fifth national title in baseball fell short.