LINCOLN, NEB. – The Nebraska Farm Bureau Foundation awarded two Nebraska teachers an all-expense paid trip to the National Agriculture in the Classroom Conference, June 20-24 in Litchfield Park, AZ.
Anica Brown from Pound Middle School in Lincoln received the trip in conjunction with 2016 Teacher of the Year honors from the Nebraska Farm Bureau Foundation. Each year, the Foundation recognizes two outstanding teachers that incorporate agriculture into their classroom environments.
"The conference deepened my understanding and commitment to teaching my students the value of learning about agriculture, because farmers and ranchers provide for the world. It is important to engage each other in an agriculture conversation and teach our students to be confident consumers," said Brown. "This was a fantastic conference. I look forward to attending again."
Judi Roach from North Elementary in Sidney was also honored as a 2016 Teacher of the Year and was awarded the trip to Arizona.
"The conference has shown me what teaching agriculture looks like throughout the United States, across content areas and across grade levels," Roach said. "I would encourage other Nebraska teachers, volunteers, administrators, or anyone who wants to help students learn about agriculture, to attend the conference. A huge thank you to the Nebraska Farm Bureau Foundation for providing this incredible learning opportunity for me."
Nebraska teachers Patti Romshek and Kathy Bohac from East Butler Public School in Brainard also attended the conference. The American Farm Bureau Federation recognized their excellence in teaching with grants from the White-Reinhard Education Fund. Romshek and Bohac received Teacher of the Year Awards from the Foundation in 2014.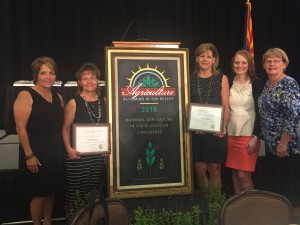 The National Agriculture in the Classroom Conference brings together kindergarten through 12th grade educators across the U.S. to discuss innovative ways they can use agriculture to teach core subject areas. In addition, conference participants have the opportunity to attend traveling workshops that include visits to local farms and touring the University of Arizona-Maricopa Ag Center (MAC).
Megahn Schafer, Executive Director of the Nebraska Farm Bureau Foundation, says supporting teachers is a smart investment. "We are thrilled to partner with teachers who recognize the benefits of incorporating agriculture into their classrooms. The impact of attending this conference will multiply as they share the knowledge and resources gained with their students and fellow teachers."