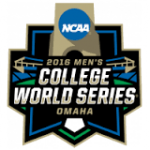 TCU freshman star Luken Baker went 3-for-3 with a home run Tuesday night, and the Horned Frogs took control of their College World Series bracket with a 6-1 victory over Coastal Carolina.
The Frogs are 2-0 and move on to Friday's Bracket 2 final.  They'll play the winner of an elimination game Thursday between Coastal Carolina and Texas Tech.
The Red Raiders beat Florida 3-2 Tuesday, eliminating the Gators.  It was a stunning exit for the number one national seed, which made things interesting in the bottom of the ninth after Peter Alonso's 2-run homer made it a one-run game.  But, Florida's rally fell short as the Gators went 0-2 in the tournament.
There's one CWS game on tap Wednesday: UC Santa Barbara faces Arizona in an elimination contest at 6pm.