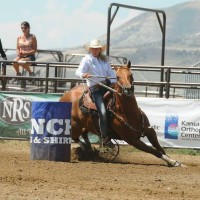 Casper, Wyo. – NCTA Aggie barrel racer Lexus Kelsch of McLaughlin, S.D., won fifth overall at the College National Finals Rodeo on Saturday.
Kelsch is captain of the Aggie Women's Rodeo Team at the Nebraska College of Technical Agriculture in Curtis.
Going into the CNFR, she was ranked fifth in barrel racing standings of the National Intercollegiate Rodeo Association.
With her horse, Tigger, Kelsch has been a national champion in high school rodeo and competed strong for NCTA in 2014-2015 and again in 2015-2016, also earning a spot at CNFR in 2015 and winning 9th overall.
Her return to the Casper arena last week was strong with her best run in Saturday's final, short go-around at 14.14 seconds in the cloverleaf pattern.  Twelve barrel racers had advanced from the 49 national qualifiers.
Other results for Kelsch and Tigger were: 1st round, fourth place at 14.23 seconds; 2nd round, tied for 15th place, 14.28 seconds; and 3rd round, 15th place, 14.34 seconds.
Kelsch will return to NCTA for the fall semester to rodeo and continue her studies in equine health.
Collegiate athletes competed among 11 regions and more than 100 colleges.  Events included saddle bronc riding, bare back riding, bull riding, tie-down roping, steer wrestling, team roping, barrel racing, breakaway roping, and goat tying.