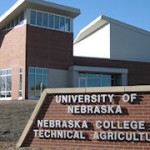 Kearney, Neb. – The agricultural education program at the Nebraska College of Technical Agriculture in Curtis had been named Outstanding Post-Secondary Program in the state.
The Nebraska Agricultural Education Association recognized Dr. Douglas Smith of Curtis during its annual meeting in Kearney last week.
Smith, who is an assistant professor and livestock judging coach, is chairman of NCTA's Animal Science and Agricultural Education in Agricultural Production Systems.
He also is a "professor of practice" on the faculty of UNL's Agricultural Leadership, Education and Communication department. The department prepares students to be high school agricultural teachers, FFA advisors, and youth ag program instructors.
Smith started the agricultural education program at NCTA three years ago. He instructs students who are studying their first two years of a 4-year program.  They receive an associate degree from NCTA and progress to their junior and senior years of study at UNL or other 4-year institutions.
His responsibilities include traveling to high school classrooms to observe student teachers.  In May, NCTA had two students graduate from ALEC at UNL and accept teaching positions, and two at NCTA who will go to UNL.
"I am humbled and blessed to receive recognition for our efforts here at NCTA," Smith said. "We believe the future of agricultural education is one of the most important endeavors we can assist with, and this is why we work hard to provide a high quality education for future educators."
Smith joined the NCTA faculty in 2011.  For information about NCTA's academic or student programs, call 1-800-3-CURTIS or see www.ncta.unl.edu.