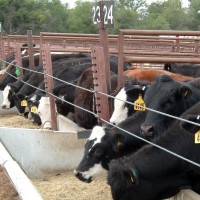 By: 
Ed Czerwien


The finished cattle trade live prices were quoted stdy to   weak and dressed prices mostly steady but with some weakness late on Fri.
  The weekly weighted average cash steer price for the five area which includes TX, NE, CO, KS and IA feeding areas was 1.77 lwr at  127.52    and compared to  129.29 the prev week.
The cash dressed steer price was 205.64 compared to 205.66 the prev week which was only 2 cents lower.
The five area total cash str and hfr volume was 85,944 head compared to  103,000 the previous week.
Five area formula sales totaled 184,757 hd compared to 154,000 the prev week.
The five area avg formula price was 203.04 compared to 205.93 the prev week which was down about 2.90
Nationally reported forward contracted cattle harvested was 48,000 hd compared to 41,000 hd the previous week.  Packers have 288,000 head of Forward contracts available for Jun so we have about 200,000 hd available for the next two weeks.
The average live wt from the TX Panhandle which includes steers and heifers for    WE Jun 04 was 7 lbs hgr at 1312  lbs and that was 1285 last yr.
The latest avg National steer carcass weight for week ending May 28  was 3 lbs lwr  at 859 lbs.  compared to 864 lbs last yr.   so we're 4th wk lower than last yr
Choice-Select spread was 23.37 on Friday about a dollar lower than the prev wk and 5-7 last yr during mid Jun.  The big rally for the Ch rib and loin as buyers purchased steaks for grilling helps to widen the Ch Sel spread.
Also the National cattle grading report for WE 5/28 showed that it is currently close to 74 % ch and Prime which would be about the same as the previous week and last year.  We are also in the normal seasonal slump in grading dropping about 2 % in the last couple of months which occurs every year at this time.  We are currently harvesting more calf feds which is normal but they are younger cattle at lighter wts which don't grade quite as high this early in the season.

This was similar to last year but we also have been harvesting more numbers of feedlot strs and hfrs recently which actually slightly increased the numbers of Ch and Pr compared to last yr because they are grading similar.  This once again points to the increased demand for grilling steaks.