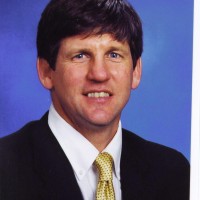 LINCOLN, NEBRASKA – – Jan Archer, a pork producer from Goldsboro, North Carolina, was elected as president of the National Pork Board at the organization's June board meeting in Des Moines, Iowa.
Serving with Archer on the board as vice president is Terry O'Neel, a pork producer from Friend, Nebraska. Terry O'Neel, and his wife Diane, own and operate O'Neel Farms in Friend, Nebraska. They have two grown children that are both involved in the pork industry. O'Neel Farms is a farrow-to-finish operation that markets 12,000 pigs annually. In addition to pigs, O'Neel Farms also grows corn and soybeans on 700 acres.
O'Neel, also elected to a second board term, served as treasurer in 2015-2016. O'Neel serves on the Domestic Marketing and Pork Quality, Safety and Human Nutrition committees. He has hosted farm tours for the Alliance for the Future of Agriculture in Nebraska, The International Water for Food Project and various service, student and youth groups. He served as president of the Nebraska Pork Producers Board in 2007.
The National Pork Board is comprised of 15 farmer-directors representing America's pig farmers. The National Pork Board has responsibility for Checkoff-funded research, promotion and consumer information projects and for communicating with pork producers and the public.