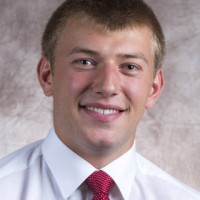 Nebraska junior pitcher Max Knutson told the Omaha World-Herald that he's signed a professional contract with the Baltimore Orioles.
The left-hander will forgo his senior season at NU after the Orioles made him a 12th-round MLB draft pick last weekend.
Two other Husker juniors, outfielder Ryan Boldt and first baseman Ben Miller were drafted.  Boldt went in the second round to Tampa Bay and Miller was chosen in the 32nd round by Pittsburgh.
They have until July 15th to sign.