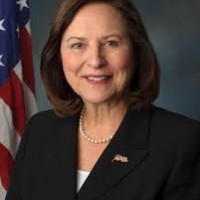 Click here
or on the image above to view and download Senator Fischer's exchange with
Transportation Secretary Foxx at yesterday afternoon's Commerce Committee hearing.
WASHINGTON, D.C. – Wednesday afternoon, U.S. Senator Deb Fischer (R-Neb.), chairman of the Subcommittee on Surface Transportation, participated in a Commerce Committee hearing regarding the implementation of the multi-year highway bill. The bill, known as the FAST Act, was signed into law in December 2015. The committee heard testimony from U.S. Secretary of Transportation Anthony Foxx, who answered several questions from Senator Fischer regarding freight policy, trucking regulations, and railways.
Senator Fischer released the following statement after yesterday's hearing:
"I was pleased to discuss the implementation of the new highway bill and other transportation priorities with Secretary Foxx this afternoon. This law will improve the safety of roads in Nebraska and provide certainty for states and local communities as they plan long-term construction projects. I look forward to working with Secretary Foxx to strengthen our nation's transportation system and ensure the new policies enacted by this law are being carried out efficiently."
Last month, Senator Fischer chaired a
field hearing
of the Surface Transportation Subcommittee regarding the implementation of the highway bill in Scottsbluff, Nebraska. Today's full committee hearing focused on the progress being made through the Department of Transportation and their plans moving forward.
In August 2015, Senator Fischer
welcomed Secretary Foxx to Lincoln, Nebraska
. Foxx participated in a roundtable discussion with Nebraska transportation stakeholders at the University of Nebraska's Whittier Transportation Center.
Since her time in the Nebraska Unicameral, Senator Fischer has been a strong proponent of long-term transportation solutions. She joined her colleagues to craft the Senate version of the highway bill. Senator Fischer was appointed by Majority Leader Mitch McConnell (R-Ky.) to serve on the bicameral conference committee where she was instrumental in resolving the differences between the House and Senate versions of the legislation.
Fischer Provisions in the FAST Act:
Senator Fischer championed several key provisions that were included in the final highway bill. These provisions were drafted in consultation with key transportation stakeholders in Nebraska, including officials from the Nebraska Department of Roads,
local officials and community leaders, and both the public and private sectors.
Senator Fischer advanced in the multi-year highway bill.
Click here
for a summary of the final highway agreement
and
here
for the full text of the bill.