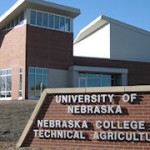 Registration has topped 100 from alumni and friends of the Nebraska College of Technical Agriculture who are gathering in Curtis this weekend for an Aggie high school and college reunion.
Honor classes with large groups include NCTA's graduates of 2001, Class of '71 from the University of Nebraska School of Technical Agriculture (UNSTA), and Class of '49, high school graduates of the University of Nebraska School of Agriculture (UNSA).
Weekend activities will include campus tours, golf, trap shooting, a session on NCTA recruiting and outreach and open houses at the alumni room and bookstore.
Stan and Dorothy Matzke of Lincoln will receive the Alumni Association's Honorary Life Membership award. Matzke was superintendent in 1965-1968, leading the institution as it transitioned from a regional residential high school to technical ag college.
Gene Heller, Class of 1973 in Ag, Land and Water, will be recognized for the Alumni Achievement Award. The David City alumnus is a steady participant in alumni activities on campus and around the state and serves on the association's board of directors.
Other awards will be shared at the Saturday banquet at the Curtis Memorial Community Center, along with live and silent auctions to support alumni scholarships for two NCTA sophomores. Former faculty member and administrator Jerry Sundquist of Curtis is donating two new class rings.
Guest speaker and emcee is Dave Thorell of Loomis, KRVN broadcaster and radio personality.
Details about the UNSTA-NCTA Alumni Association is available from Catherine Hauptman at (308) 367-5200, or Kim Mortensen of Curtis.
Other information is available in the 2016
Dean's Newsletter
,
posted at the NCTA web site, ncta.unl.edu, under "News and Events."