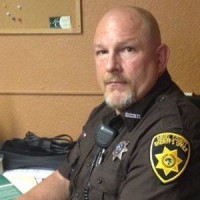 A former Butler County Deputy Michael "Hutch" Hutchinson could be loosing his health insurance while recovering from the December 3rd shooting.  The deputy was serving a warrant on a Big Springs, Nebraska man when the shooting accord.
Hutchinson serves as a deputy in Deuel County, NE.  Blue Cross Blue Shield is stating that since he isn't working 30 hours a week they won't keep coverage.  According to his family an item on the county commissioners June 7th agenda is whether or not to continue his insurance via cobra insurance.
He is still fighting an infection from the last surgery and unable to work the 30 hour minimum each week.  The family says it doesn't seem right to put your life on the line protecting the county and then be rewarded with no health insurance.