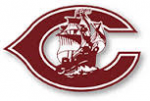 Elli McMeekin of Columbus High has been chosen as the 2016 Columbus Community Hospital-Premier Physical Therapy Athlete of the Year. McMeekin starred in soccer, volleyball and basketball for the Discoverers.
She was presented with a $1,000 scholarship check this morning at Premier Physical Therapy.
McMeekin has signed to play soccer for College of Saint Mary in Omaha and plans to major in nursing.
She was one of many local athletes saluted as an Athlete of the Week this school year on 93.5 The Hawk and in the Columbus Telegram.