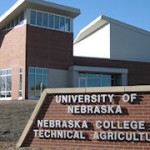 Curtis, Neb. – Michelle Connelly was preparing to graduate in biology at the University of Nebraska-Kearney when she made a career move ideally suited for the Grand Island native.
Animal health and pet care seemed to be calling her name. The graduate of Grand Island Senior High considered applying to veterinary school after she received her bachelor's degree in biology from UNK, but deep down she yearned to be a nurse for animals.
"Working at the vet clinic in Kearney for five years really made me feel like vet tech was the place for me," Connelly recalls. "So I finished at UNK and headed to Curtis.  I've always wanted to work with animals and so I'm glad I made the decision to go to NCTA."
The owner of one college degree and several small companion animals found her niche.
After investing two years in the veterinary technology program at the Nebraska College of Technical Agriculture, Connelly was named the NCTA Aggie of the Year. The selection was made by NCTA faculty and announced May 4 by NCTA Dean Ron Rosati.
The next day, she graduated magna cum laude (with a GPA of 3.75-3.99) and received congratulations from her instructors and friends.
Along with 66 fellow graduates, she also received a firm handshake and hearty congratulations from several dignitaries who attended the commencement exercises including University of Nebraska President Hank Bounds and Governor Pete Ricketts.
Connelly's eyes teared up, though, as she received hugs from her instructors in the Veterinary Technology division at NCTA.
After all, these were "her" people – the ones who she spent hundreds, if not thousands, of hours around while in classes, laboratories, student meetings, and performing many of the extra duties required with the dozens of animals in the vet tech teaching program.
Her extra efforts and steady willingness were key attributes mentioned by the staff who nominated Connelly for the Aggie of the Year designation.
"Michelle is thoroughly committed to her studies to become a veterinary technician and the animals she serves," said Dr. Ricky Barnes-Wach.
Over holidays or in tight scheduling periods, Connelly had remained at campus to handle kennel duties and care for the VT teaching animals.
As an older student with a previous college degree in hand, she also became the go-to person for student tutoring and assistance with projects and assignments.
Her extracurricular activities included serving as vice president of the Phi Theta Kappa honor society, secretary of the Student Technicians of Veterinary Medicine Association, and participating in club activities such as the popular Pet Spa Days open to the campus community and residents of Curtis.
Connelly has an artistic flair and her colleagues often turned to her creative skills for awards, projects, and even creation of the special, commemorative plates she made when a VT teaching animal passed away.
Her professors know she will be an excellent technician and valued employee in her career working with veterinary professionals.  This summer, she is working at private clinics in Kearney and Grand Island as she prepares to sit for the national examination to become a certified veterinary technician, a requirement to be licensed in Nebraska.
"Even though Curtis is a small town, it really grows on you and makes you want to be more involved.  The teachers at NCTA are great and I will forever remember their kind but firm manner of teaching," Connelly said.
NCTA is an open enrollment, two-year institution with a statewide mission as part of the University of Nebraska system.  It is fully accredited by the Higher Learning Commission.  Additional information is available at
ncta.unl.edu
or by calling 1-800-3-CURTIS.