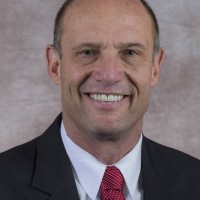 Nebraska head football coach Mike Riley and athletic director Shawn Eichorst visited Columbus last night as part of a statewide tour.
Riley was the featured speaker at the Columbus Area Chamber's annual celebration at Ag Park.  Prior to the event, Riley said this tour he's on is important because he appreciates the loyalty and support of Nebraska fans.
Looking ahead to next season, Riley said the key areas to improve from last year's 6-7 campaign are to cut down on offensive turnovers, force more turnovers on defense and get better pass defense – and run the ball better. On that last point, Riley said there is going to be a focus on featuring quarterback Tommy Armstrong Jr. in the run game.
Riley is looking forward to the Huskers playing five prime-time games next season, especially the two home games under the lights, calling those games "electric."