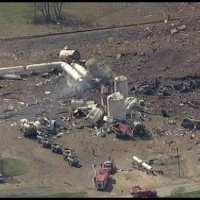 WEST — The explosion at the West Fertilizer plant was determined to be a criminal act, said Alcohol, Tobacco and Firearms (ATF) Special Agent Rob Elder in a press conference held in West Wednesday afternoon.
Elder said that based on all of the evidence the ATF determined that the fire was incendiary and intentional. "We have come to this conclusion through over 400 interviews, a systematic fire scene examination, considering witness observations, viewing both witness photographs and video, as well as extensive scientific testing," Elder stated.
Investigators were able to rule out any possible accidental or natural causes for the blast. He did not provide any other specific details in order to "protect the integrity of the investigation."
More than $2-million was spent on the investigation, which Elder said was one of the longest and most extensive in the agency's history.
Over 400 people have been interviewed in the investigation. Investigators have many leads and "believe that we are on the right path." Elder said that it is too early to speculate on motive or criminal charges.
Evidence was recovered as far away as 2.5 miles from the blast site. Elder said that they are certain of the origin of the fire, which was in a seed building.
The ATF is offering up to $50,000 for information in the case. Anyone with information is asked to contact 254-753-4357 or submit tips online here.
Fifteen people, including twelve firefighters, were killed and 160 were injured in the explosion on April 17, 2013. Over 500 homes were destroyed in the area.
Bryce Reed, a former paramedic for West EMS who helped evacuate residents before the blast, was found in possession of "bomb-making materials" days after the explosion. Investigators found no evidence linking him to the blast. Elder stated at the conference that Reed is not considered a suspect in the case.
Thanks to KCEN News NBC