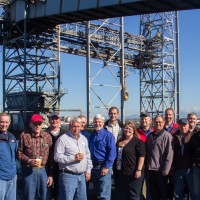 LINCOLN, Neb. 
— May 10, 2016 —
Farmers who only focus on the process of growing crops and delivering them to the local elevator may be missing an important part of the big picture according to participants in the Nebraska Soybean Board's (NSB) See for Yourself program. The NSB hosted more than 30 farmers, ag industry leaders and staff members on two learning experience tours; to Mexico in February and the Seattle area in March.
Keith Heithoff of Elgin says the See for Yourself tour in the Seattle area helped him to better understand how soybeans are shipped overseas. He was also surprised at the role cleaner-burning biodiesel, made with soybean oil, plays in fueling transportation in the environmentally sensitive Puget Sound. "It's unbelievable the amount of knowledge among the people on the trip," Heithoff said. "I was really glad I went."
On the See for Yourself experience in Mexico, participants learned how Nebraska soybeans are used for poultry production, aquaculture and cooking oil. Brian Brown of Central City was impressed by the role the soybean checkoff plays in increasing market share for U.S. soybeans in Mexico. "The local producers there who buy our products like to meet face to face with the people they're buying from," Brown said. "I think the checkoff and See for Yourself are very worthwhile."
Mexico is the second largest export market for U.S. soybeans. Cortland farmer Leon Dorn was surprised at what checkoff-funded organizations do to promote U.S. soybeans. "We have people on the ground working one-on-one with the poultry and aquaculture operations," Dorn said. "Our people are there to increase our market share of soybean meal and soybean oil, using our checkoff dollars to ultimately improve the price of soybeans."
The goal of the See for Yourself program is to help farmers learn how the soybean checkoff is used to develop and grow markets for U.S. soybeans. Participants in this year's events say most farmers could benefit from the program. "It's neat to see firsthand that they're actually using that money to promote new uses for soybeans," said Brown. "I encourage farmers to go, especially if you question why you pay the checkoff. Go for yourself and see."
This was the eleventh consecutive year for the NSB to host the See for Yourself program. Farmers interested in applying for the program in the future should look for information this fall at NebraskaSoybeans.org, and follow the Nebraska Soybean Board on Facebook and Twitter.