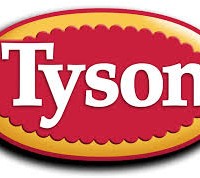 DJ- Plentiful birds, low-cost feed grain and strong consumer demand have helped chicken profits take flight at Tyson Foods (TSN), and executives describe a lofty outlook for the year ahead. Poultry segment set a record 12.7% profit margin in Tyson's fiscal 2Q, and changes to the way Tyson runs the business–minimizing sales of commodity chicken, focusing on more branded products and even buying some meat on the open market when needed–have helped soothe concerns among analysts around the notoriously cyclical chicken business.
Tyson CEO Donnie Smith tells analysts on conference call that Tyson
now sees chicken's normal profit margins running between 9% to 11%, higher than in the past. TSN gains 3.6% to $69.80 premarket.
(jacob.bunge@wsj.com; @jacobbunge)