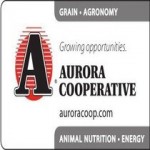 Aurora Cooperative Elevator Co., Aurora Ne acknowledges that it's airplane hangar in Henderson, NE was engulfed in flames on Saturday evening and appears to be a total loss, including aircraft.   No injuries occurred and our staff is safe and well. Fire Marshal is currently investigating the fire, but his Initial indication is accidental and possible cause is electrical. Final results will be coming in the next few weeks.
Chris Vincent, Aurora Cooperative President and CEO stated, "We thank all Local Fire Departments that responded and contained the fire to the single hangar.  All other out buildings were spared. Local Fire Departments are a large part of our communities and their commitment of volunteer time through training and professionalism is nothing short of amazing. We are in their debt!"
Aurora Cooperative Aerial Division is 34 aircraft deep and will continue to provide all the services to our Owners and customers as we rebuild the Henderson Location.  We will work very hard to not miss a beat, as we put our owners' equity to work!