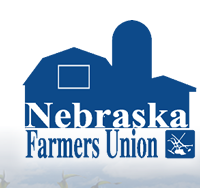 LINCOLN  – Nebraska Farmers Union (NeFU) lauds the passage of LB886, the Priority Bill of Senator Al Davis.  T
he bill passed on Final Reading with no dissenting votes on April 12
th
and signed by the Governor April 18th.
"Thanks to the efforts and leadership of Senator Davis, the Legislature has helped offset a portion of the substantial financial costs incurred by our volunteer Emergency Responders," said John Hansen, President of NeFU.  "Our volunteer Emergency Responders have their own businesses and farms to run.  When they are helping their neighbors in their time of medical need, they are doing so at a considerable personal cost to themselves or their employers."
LB886 provides for a $250 tax credit to volunteer EMTs, rescue squad members, and volunteer firefighters. To qualify, recipients of the tax credit must first meet certain criteria certifying their status as a volunteer emergency responder.
This criterion is drawn directly from the Volunteer Emergency Responders Recruitment and Retention Act, which was passed into law in 1999. The criteria is used by volunteer emergency responders to earn points for participation in activities such as emergency response calls, training courses, participation in drills, and fire prevention education activities.
"Rural Nebraska depends on volunteer Emergency Responders to provide services 24-7 and in all places in Nebraska. Even though the state does not have a Voluntary Emergency Responders group, these folks from all over Nebraska have been known to provide services and fight fires on state property.  The state should be providing funding for this important incentive. Were it not for our volunteers and their employers donating their time, rural Nebraska would either go without emergency services, or be forced to pay for these expensive services with higher property taxes," said Hansen. 
Senator Davis recruited 27 co-sponsors for his bill. The bill was also supported by Nebraska State Volunteer Firefighters' Association, Nebraska Professional Firefighters' Association, Nebraska Emergency Medical Services, NeFU and many other groups supporting rural issues.  "After 10 years of working this issue, Sen. Davis was finally able to get the ball over the goal line," Hansen said.
"I am glad to see that Nebraska state senators understand how important it is that we recognize our volunteers with this tax credit.
In rural Nebraska, we rely heavily on our volunteers. Often, these brave men and women leave their homes, families, and jobs at a moment's notice in order to keep their communities safe. This is just a minimum recognition of the work that they do,"
Senator Davis said.