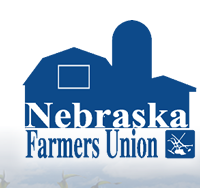 Nebraska Farmers Union (NeFU) said Judge C. Matthew Samuelson's April 26
th
sentencing of Vic Jensen, a fifth-generation Burt County livestock producer, confirmed their worst fears about the inherent flaws in the Nebraska Animal Welfare Act.  In addition to a $1,000 fine and 45 days in jail, Judge Samuelson banned Vic Jensen from owning or possessing livestock for 10 years for two first-time misdemeanor convictions of animal mistreatment. 
"Vic Jensen is a trained veterinary technician, a military veteran, a lifetime livestock raiser, and is a nationally known and respected breeder of top quality quarter horses," said John Hansen, NeFU President. "If this could happen to Vic Jensen, all Nebraska livestock producers are at risk.  That is very alarming."
"NeFU opposed the current law during its passage because it failed to provide an adequate medical fact finding process needed to distinguish between neglect and complicated medical situations," said Hansen. "It also failed to provide due process protection for private property rights, subjecting livestock producers to a complaint driven process vulnerable to malicious misuse by animal advocacy groups, competitors, or neighbors with a grudge."
Another problem NeFU predicted with current law is its failure to provide adequate guidelines for sentencing.  "We feared a livestock producer could be put out of business for a first-time misdemeanor, and that's exactly what's happened in this worst case situation.  That is not a 'Livestock Friendly' or reasonable approach," Hansen said.
NeFU complimented the Burt County Sheriff for working with Vic Jensen to develop an appropriate management plan to resolve his herd health problem.  Tragically, the herd was well on its way to improved health when the Burt County Attorney disregarded the signed agreement and chose to prosecute Vic Jensen to the fullest extent of the law.   That was a terrible mistake.  The problem was compounded when Judge Samuelson failed to force the County Attorney to produce the full, signed agreement between the Sheriff and Vic Jensen at the trial.
Hansen said his organization supports responsible livestock husbandry practices and does not condone either neglect or abuse of livestock.  "The Vic Jensen case amounts to an established livestock producer who unknowingly purchased toxic contaminated hay resulting in a complicated medical problem for his herd, and he was unjustly put out of business despite his best efforts to deal with his medical problem in a responsible manner.  After all, Vic Jensen is a Vet Tech.  Neither justice or common sense prevailed in this case," said Hansen. 
Hansen said his organization believes that each herd health situation should be considered as one charge, not individual charges for each animal in the herd impacted.  "When there is a herd health problem, it makes no sense to bring charges by the head, especially when the majority of the animals in the same pen are doing fine."
NeFU is hopeful the Legislature's Agriculture Committee will study and reexamine this law this summer and fall.   "It is too bad Sen. Schilz' LB393 did not get sent to the floor for consideration this session.  When our livestock producers are facing a major herd health problem, they need and deserve professional help, not legal efforts to put them out of business.  The Nebraska Animal Welfare Act needs to be reviewed and amended," Hansen concluded.