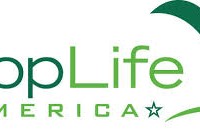 WASHINGTON, D.C. – CropLife America (CLA) is pleased to celebrate Earth Day today and encourages every advocate of sustainable agriculture to share a selfie illustrating your pride in practicing eco-conscious growing techniques with #AgLoudAgProud. Post a photo from the farm, in the kitchen, at a café or in any setting that helps you share your commitment to reducing agriculture's environmental footprint and keeping land fertile for generations. CLA has developed a number of downloadable materials for use on social media that communicate how technological advancements have helped make the U.S. a leader in sustainable food production, such as:

"Healthy land is a primary ingredient in the production of food, and the crop protection industry remains tireless in the pursuit of precise technology that is protective of our natural resources and wildlife," stated Jay Vroom, president and CEO of CLA. "From communicating the proper use of a pesticide product to the correct disposal and recycling of containers, the industry continues to advance projects and programs that support our ecosystems and farms. Last year alone in the U.S., the industry recycled a record 10,440,000 pounds of pesticide containers through the help of the Ag Container Recycling Council (ACRC). We encourage everyone in the industry to get involved in programs such as ACRC and further enhance their stewardship efforts."
Through the CropLife Foundation (CLF), CLA's members support a number of projects focused on sustainable growing practices. "I am pleased to join the Foundation and help advance our programs," stated Shefali Algoo, development manager at CLF. Algoo recently joined CLF having previously worked at the American Chemical Society. "This year, we're seeking to make a big impact in the areas of improving water quality and reducing food waste. Earth Day is a good time to take a second look at how we grow and challenge ourselves to do even better."
The 2016 global Earth Day theme, developed by the Earth Day Network (EDN), is Trees for the Earth. By Earth Day's 50th anniversary in 2020, EDN plans to plant 7.8 billion trees – one for every person in the world. Farmers help support the world's trees through using modern crop protection technology to increase production without increasing land use or contributing to deforestation. The responsible use of modern pesticide technology also helps farmers practice conservation tillage, reducing erosion, fuel use, and the release of carbon dioxide into the atmosphere.
"On Earth Day twenty years ago, most of us in American agriculture were focused on one big thing — how in the world could we accomplish Delaney Clause reform and modernize food safety?" Vroom continued. "Less than four months later, we were at the White House to watch President Clinton sign the Food Quality Protection Act (FQPA) into law, the most significant advance of modern regulatory oversight of pesticide safety in a lifetime. This law, based in hard toxicological data, helped make the U.S. food system the global leader in safe and sustainable agricultural production. Today is a day to recognize the achievements of FQPA and look to how we can continue to stay committed to its principles."
Vroom will testify next Wednesday before the House Committee on Agriculture, Biotechnology, Horticulture and Research Subcommittee on how the EPA's recent actions, such as regarding epidemiology studies and the application of the 10X safety factor, are overturning progress accomplished by FQPA. In his remarks, he will speak to the importance of toxicological studies as the basis of pesticide regulation and promote an appropriate role for epidemiology studies. For more information on the benefits of crop protection products and the science behind the development of pesticide technology, visit www.CropLifeAmerica.org.