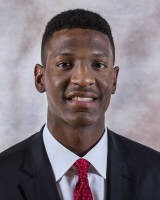 Nebraska's Andrew White III has announced he intends to declare for the 2016 NBA Daft. However, the Husker junior will not hire an agent, maintaining his college eligibility.
In January, the NCAA Division I schools adopted a proposal that permits men's basketball players to enter the draft and take part in selected pre-draft activities while maintaining their college eligibility.
White will be able to attend NBA teams' workouts starting next week and may compete in the NBA Draft Combine next month in Chicago.  He has until May 25th to keep his name in or withdraw from the draft.
The 6-7 guard earned honorable-mention All-Big Ten honors last season, averaging 16.6 points and 5.9 rebounds per game.