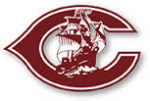 The Columbus High baseball team split a doubleheader at Norfolk Thursday.
The Discoverers dropped the opener 8-6, bouncing back to win the nightcap 3-2. Columbus is 3-15 on the year.
The Discoverers home game scheduled for Friday night against Elkhorn South has been postponed. That's due to Elkhorn South having a conference tourney game postponed by air quality issues and rescheduled for Friday night.