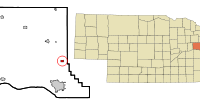 FREMONT, Neb. (AP) – The Nickerson Village Board vote against rezoning land for a new chicken plant may have doomed the proposal.
The board voted 5-0 Monday night after opponents packed the village fire hall and criticized the plan. Opponents say they fear the plant would bring heavy traffic, bad smells and an influx of immigrant workers and families.
The plant would be built along U.S. Highway 77 between Fremont and Nickerson. The Greater Fremont Development Council says the initial investment would be around $300 million and says the plant would bring 1,300 jobs to the area.
Council Executive Director Cecilia Harry says the council will contact the unnamed company behind the proposal and ask officials whether they want to continue pursuing it in the Fremont-Nickerson area.