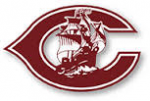 The Columbus boys' soccer team posted a road win Thursday over Lincoln Southwest. The Discoverers edged the Silver Hawks 3-2 to hike their record to 4-1.
The Columbus girls were blanked by Southwest 4-0, dropping to 3-2 on the year.
Both Columbus squads will next play Monday at Norfolk in a pair of matches that were postponed by bad weather on March 24th.