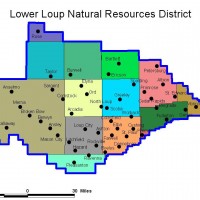 Landowners and residents of the South Loup Basin are invited to attend an open house for the South Loup Watershed Management Plan at the Callaway Community Center in Callaway on Tuesday, April 5th. The open house is scheduled for 4:00 pm and will be hosted by the Lower Loup, Upper Loup, Central Platte, and Twin Platte Natural Resources Districts and the Nebraska Department of Environmental Quality.
The event will feature a series of poster boards with results of the year-long study of the South Loup area. Experts will be on hand to answer questions and a short presentation is scheduled for 5PM on the status of the Watershed Plan. JEO Consulting Group, who is assisting with the planning effort, will be presenting a summary of the project findings, including potential pollutant sources, prioritization of Best Management Practices (BMP), and water augmentation/recharge modeling results.
Completion of the plan will give the various agencies insight on the challenges they face to protect water quality and quantity in the South Loup River Basin. The plan will identify conservation practices that protect both ground and surface waters within the basin.
The South Loup River Watershed covers over 1 million acres and is devoted to agricultural uses including farming, grazing and feeding operations. It includes 6 communities, 2 community lakes and multiple recreational uses. There are over 230 stream miles in the basin.
Water quality issues are a concern for both groundwater nitrate levels and in-stream e Coli bacteria levels. The Nebraska Department of Environmental Quality has also labeled several locations on the South Loup River as impaired.
LLNRD Water Modeling Coordinator Tylr Naprstek said the event will be an opportunity for landowners to learn more about the results and the opportunities to implement best management practices on their properties. For more information, contact Tylr Naprstek at the Lower Loup NRD at 308-728-3221 or e-mail tnaprstek@llnrd.org.