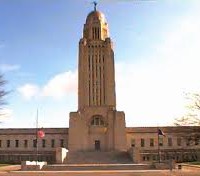 Lincoln, Neb In a recent poll, 65.5% of likely voters said they would vote "for" a constitutional Right to Farm Amendment.  Support was highest in the agriculturally dependent 3rd congressional district, where 72.7% were supportive.  Voter support was high in the other Congressional Districts, 60.1% and 63.8% in the 1st and 2nd
Districts respectively.
The poll was conducted in advance of the General File debate of LR 378CA, introduced and prioritized by
Senator John Kuehn of Heartwell. If advanced by the Legislature, the measure would be placed on the
November 2016 general election ballot for adoption by Nebraska voters.  The matter is currently on the General File agenda of the Nebraska Legislature.
"Protection of Nebraska agriculture is my top priority as a legislator. Nebraska voters clearly and unambiguously support placing the Right to Farm in the Nebraska Constitution. The misinformation by extremist groups represent a real and urgent threat to both livestock production and commodity science. It's time to be proactive in supporting and protecting agriculture, which represents 1 of every 4 jobs in Nebraska," said Senator John Kuehn of Heartwell, a veterinarian and a 4 ​th​  generation ag producer on a family operation with his dad and younger brother.
The live poll of 600 likely voters for the 2016 General Election in Nebraska was conducted from March 6­9,
2016.  Margin of Error is 4.0%  at the 95% Confidence Interval.
"Activists representing a vocal minority will use scare tactics and false rhetoric to sway perception of Right to
Farm in Nebraska," said Senator Kuehn.