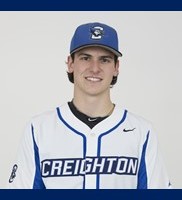 Ryan Fitzgerald had three hits and two RBI to lead Creighton to a 5-4 victory over Kansas State Tuesday night.
The win at TD Ameritrade Park was the Bluejays' seventh straight – all coming at home – as CU moved to 13-4 on the season.
Creighton was scheduled to host Kansas Wednesday at 6:30pm, but the game has been cancelled due to the weather forecast.