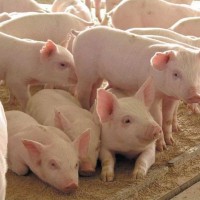 A new study suggests the porcine epidemic diarrhea virus or PEDV outbreak in the United States in 2013 may have originated in China. BMC Veterinary Research also says if the conditions are right, another outbreak may occur.
PEDV devastated the pork industry in 2013 as the deadly virus and cost hog farmers millions of dollars. Researchers say the virus can survive on feed ingredients produced in China and shipped to the U.S. for 37 days—and that appears how the virus first entered the United States, according to Meatingplace.
Last year, USDA's Animal and Plant Health Inspection Service found that the use of Flexible Intermediate Bulk Containers, or "tote bags," best fit the criteria established for entry of the virus into the United States and introduction onto individual farms.