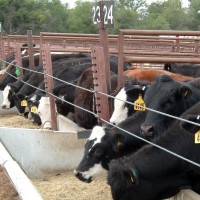 By Kelsey Gee
A government report is expected to show a dramatic increase in the number of feeder-cattle in the beef supply chain compared with the start of March last year, as supplies of lightweight animals gradually expanded.
The number of cattle placed into U.S. feed yards last month was predicted to be 8.5% larger than the same time in 2015, according to a Wall Street Journal survey for Friday's federal cattle-on-feed report. The U.S. Department of Agriculture is scheduled to release the report at 3 p.m. EDT.
The average of estimates from nine analysts for the number of cattle sold to commercial feedyards in February was 1.683 million head, according to the average of the estimates, which ranged from 0.7% lower to 14.3% higher than the year-ago period. The wide range reflects strong uncertainty about the pace at which feedyard operators refilled pens with lightweight cattle amid volatile cattle prices.
According to one index composed by commodities-advisory firm Allendale Inc., feedlots–which buy light calves and cattle to fatten and sell to packers for beef–have lost money growing cattle for 15 consecutive months. The feeding losses make new investments in replacement animals riskier, and live-cattle prices have swung in a nearly 10-cent range per pound over the course of the month.
Meanwhile, the U.S. cattle herd is slowly expanding, expected to add to feedyard supplies after calves have spent around a year in some regions grazing pastures and range land.
Analysts are split in their view of whether or not the warmer-than-normal weather so far this year contributed to longer stays on the farm, tightening feeder-cattle supplies in the near term, due to ranchers' reluctance to sell livestock until prices pick up or until they gain more weight later in the spring.
"We're going to have placements continue to accelerate until we see much bigger numbers of cattle in the summer," said Don Roose, president of U.S. Commodities, a brokerage in West Des Moines, Iowa.
The average of the estimates for the number of cattle in feedyards as of March 1 was about 10.723 million head, or 0.3% above the same period last year.
Projections for the total number of cattle that were marketed by feedyards in February to be processed for beef averaged 4.6% above this time last year, at 1.586 million head.
source: Dow Jones News Wire