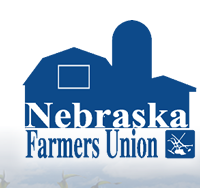 Lincoln, NE – 10 agricultural students and their professors from 3 different Nebraska Colleges traveled to Minneapolis, Minnesota for the 2016 College Conference on Cooperatives under the guidance of Nebraska Farmers Union.  The participating colleges included Northeast Community College at Norfolk, Southeast Community College at Beatrice, and Nebraska College of Technical Agriculture at Curtis.  The College Conference on Cooperatives brought more than 110 attendees from the multiple states including the midwest and east coast.
The Cooperative Conference participants learned how cooperative businesses are adapting to changing environments and heard from cooperative experts from across the nation on why member-owned businesses are thriving in industries ranging from senior housing to healthcare. They also toured the CHS (Cenex Harvest States) Headquarters, housing coops, food coops, a food hub and the Mill City Flour Museum. "Cooperatives organized by farmers and ranchers play an important role in strengthening rural and urban economies across the country. CCOC engages tomorrow's leaders through a unique platform that teaches them about cooperative business principles and the opportunities available through the cooperative model," said NFU President Roger Johnson.
Students heard from cooperative leaders, farmers and government experts who explained current challenges they face. Presenters ranged from members, directors, employees and managers of traditional and value-added agricultural cooperatives to representatives of housing and worker-owned co-ops, as well as consumer cooperatives such as REI outdoor goods and natural foods co-ops. These professionals offered insights on cooperative development here and abroad.
The conference evaluations revealed that most of the students in attendance were from farms or ranches, with a large percentage from small towns, and about 10% were urban. Picard said, "The College Cooperative Conference helps make students aware of options and tools that can be used to create the economic opportunities needed to help our rural youth stay in their communities.   Learning directly with Coops also enhances the future career opportunities for students. We are pleased to partner with these Nebraska colleges to help send Nebraska kids to this Conference."
The annual College Cooperative Conference is co-sponsored by the CHS Foundation in cooperation with the National Farmers Union Foundation.  Nebraska Farmers Union was awarded a grant from the CHS Foundation to help defray the attendance costs for the Nebraska participants.