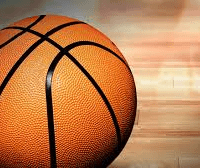 Humphrey St. Francis earned the D2 state title in boys basketball Saturday with a 33-31 win over Mead at Pinnacle Bank Arena.  The number-2 seed Flyers claimed their seventh state championship – their first since 2006 – by defeating the top-seeded club they had lost to just over two weeks ago in their subdistrict final.
Cole Wemhoff scored nine of his team-high 13 points in the fourth quarter to lead St. Francis back from a 26-20 deficit in the final period.  The Flyers, who finished as runner-ups to High Plains in the D1 state tourney last year, went 26-2 this season.  Eric Kessler coached both the St. Francis football and basketball teams to state championships.
Mead, whose only two previous losses this year were to Class C1 Johnson County Central, winds up 25-3.  The Raiders were vying for their fifth state crown and their first since 2009 when they downed the Flyers in the D1 title tilt.
In third place games on Saturday, Scotus beat O'Neill 61-55 in C1, High Plains topped BDS 39-36 in D1 and Riverside routed Parkview Christian 68-49 in D2.